Yellow, Rose &
White Gold
The most well known and sought after of the precious metals, gold is undoubtedly a high profile choice for diamond jewelry. Used across the world for thousands of years in jewelry, art, sculptures, clothing, and currency, there's no question about its beauty or value as a rare and precious metal.
Naturally, gold is a soft yellow metal so alloys are added to make it more durable and to alter the color of the metal. 18K gold is 75% pure gold with the balance being alloys, and 14K gold is 58% pure gold with the remainder being alloys.
Though it looks similar to silver, white gold is often preferred because it doesn't tarnish as silver does and it is a much more durable metal. To keep the brilliant white shining appearance, all white gold jewelry is rhodium plated which, in addition to the white alloys, is what gives the jewelry it's white shining appearance.
Rose Gold is a unique and beautiful metal that will be sure to make a statement. With a similar shine to yellow gold, the pink-red hue of rose gold will be sure to catch eyes. Again, the alloys make the metal the beautiful rose color.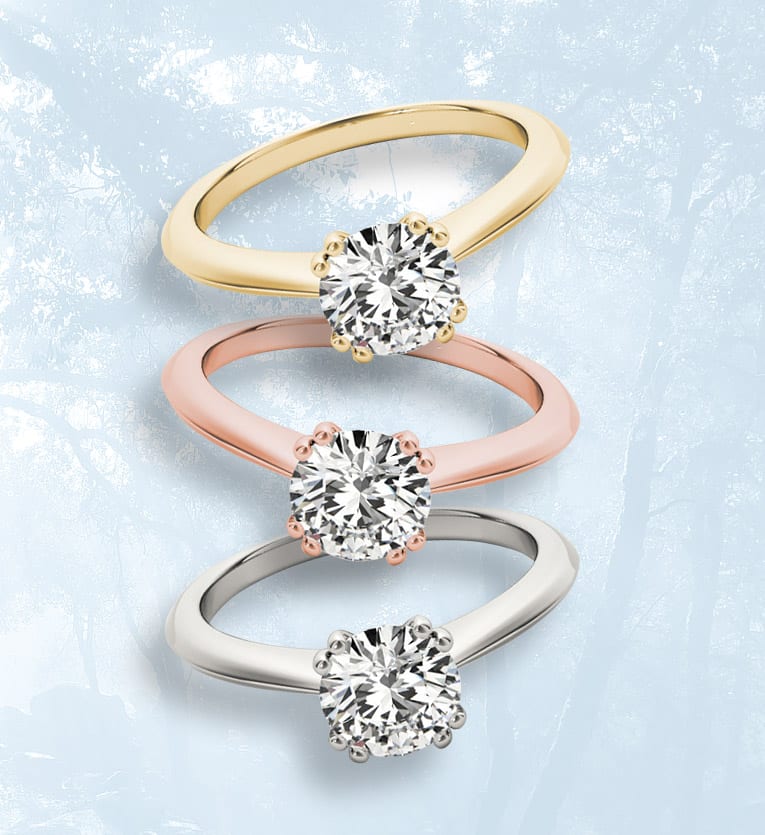 Platinum
Platinum is the rarest and most resilient of all the precious metals. Its natural luminous white color is a sophisticated and timeless style that won't tarnish, corrode or lose its luxurious color over time. Platinum is also hypoallergenic which makes it a great option for anyone with sensitive skin, or just for anyone who loves durable, beautiful and rare precious metals that will last a lifetime with little to no care or maintenance.