When customers choose lab-grown diamonds over natural diamonds, one question that often comes up is, "how do I clean my lab-grown diamond?" As clean and stunning as lab-grown diamonds are, they (like anything else) can easily get dirty, dulling the shimmer you initially fell in love with. But as easy as they are to get dirty, lab-grown diamonds are even easier to clean and keep clean following some of these simple cleaning tips.
How to Clean Lab-Grown Diamonds at Home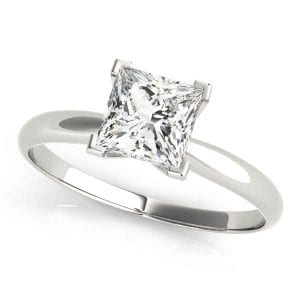 Avoid touching your lab-grown diamond directly. As tempting as it might be to play with your diamond engagement ring or jewelry, diamonds can naturally attract a lot of grease and oils, so handle your lab-grown diamonds sparingly!
Cleaning your lab-grown diamond. The easiest way to clean your lab-grown diamond is by soaking your piece in a simple solution of water and a few drops of mild dish soap about once a week, depending on how often you wear it. Alternatively, you can use ½ a cup of white vinegar and 2 tablespoons of baking soda and soak for about 2 hours. Once you remove your piece, you can use a soft toothbrush to gently clean off any leftover oil and dirt from your jewelry that may have gotten stuck in any hard-to-reach places.
Gently dry and polish. After you've finished gently cleaning your lab-grown diamond jewelry with the toothbrush (paste, not gel), rinse your piece off with water then carefully dry your piece off with a lint-free, soft cloth.
Avoid all harsh chemicals. Even though lab-grown diamonds are incredibly resilient, common corrosive chemicals like bleach or other household cleaners can damage the alloys in the gold and other corrosive chemicals can scratch or tarnish gold and other metals. When you're getting ready to tackle a big project or spring clean, we recommend wearing gloves or putting your rings somewhere else for safe keeping.
Take extra precautions. We know how precious your lab-grown diamond jewelry is to you, so make sure you take the necessary precautions to ensure that your lab-grown diamond ring or jewelry is safe by closing your drain when cleaning over a sink and using a gentle touch when scrubbing and drying your piece. With a little extra love, your lab-grown diamond jewelry will look as stunning as the day you first fell in love with it.
Founded by jewelry industry veterans with over 50 years of combined experience, Planet Diamonds offers ethically-sourced lab-grown diamonds: For the planet, not from the planet. We believe in diamonds that do not compromise quality, ethics, or value, with our goal to bring nothing but the best to our customers. Ready to learn more about lab-grown diamonds? Start here.